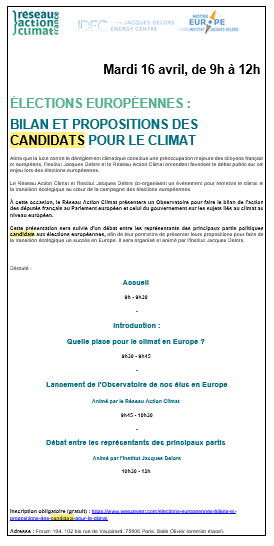 Paris, 16 April 2019 — European elections: assessment and proposals of the candidates for the climate
While the fight against climate change is a major concern for French and European citizens, the Jacques Delors Institute and the Climate Action Network intend to promote public debate on this issue during the European elections.
The Climate Action Network and the Jacques Delors Institute are co-organizing an event to put the climate and the ecological transition back at the heart of the European elections campaign.
On this occasion, the Climate Action Network will present an Observatory to take stock of the action of French MEPs in the European Parliament and that of the government on climate-related issues at European level.
This presentation will be followed by a debate between the representatives of the main political parties that are candidates for the European elections, to enable them to present their proposals to put Europe back on track with the Paris agreement. It will be organized and animated by the Jacques Delors Institute.