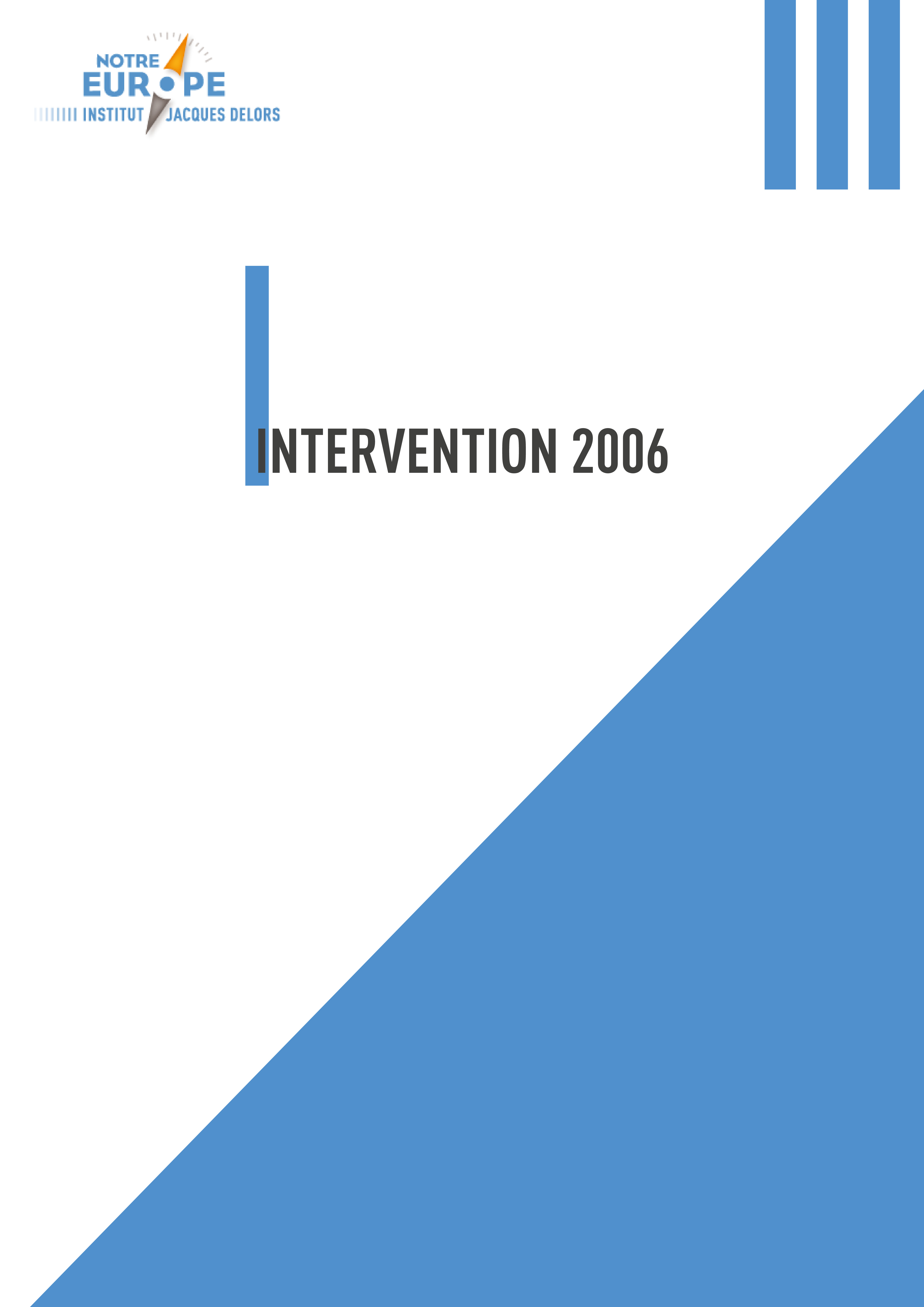 Paris, 18 November 2006 – Our Europe Tomorrow
On the occassion of its 10th anniversary, Notre Europe organises a seminar looking back to past 50 years of European integration, and on how to rekindle the EU spirit for future, with the participation of Tommaso Padoa-Schioppa, Pascal Lamy and Jacques Delors
On the occassion of its 10th anniversary,Notre Europeorganises a seminar looking back to past 50 years of European integration, and on how to rekindle the EU spirit for future.
With the participation of Guy Verhofstadt, Tommaso Padoa-Schioppa, Jacques Santer, Wim Kok, Nicole Notat, Pascal Lamy, Etienne Davignon, Josep Borrell, and Jacques Delors.
Date: 18 November 2006
Venue: Sénat, Palais du Luxembourg, 15 rue de Vaugirard, Paris 75006, France
Partners: Le Nouvel Observateur andChallenges
"The EU must reassert the trade-off or else we must stand ready to fall back behind the borders of the Nation- State", Pascal Lamy warned as he closed the "Notre Europe tomorrow" symposium organised on 18 November at the French Senate House in partnership with Le Nouvel Observateur-Challenges.
Arguing that the latter option is neither possible nor desirable, Pascal Lamy, Director- General of the World Trade Organisation (WTO) and Honorary President of Notre Europe proposed: "The European project is still relevant but is hampered by a definition issue, between two visions. On the one hand, the vision of a Europe seeking to protect herself from globalisation, on the other, a European construction adjusted to globalisation thus (intending) more regulation". With this, he brought to a close the debate that had gathered at the Senat European figures from the political, economic and trade-union stage, there to ponder the future of the European Union.
"A trade-off is feasible, and essential if we are to matter, for globalisation is neither to be stopped nor to be taken lying down," Pascal Lamy went on. "It is to be taken in hand so that its benefits can be had and its faults corrected. This is not just an internal debate: the rest of the world is watching us. If Europe says "protection", it is a signal for developing countries. This issue must be debated and a compromise reached. The points on which we are in agreement must be identified, as well as the countries in agreement to mark out a zone."