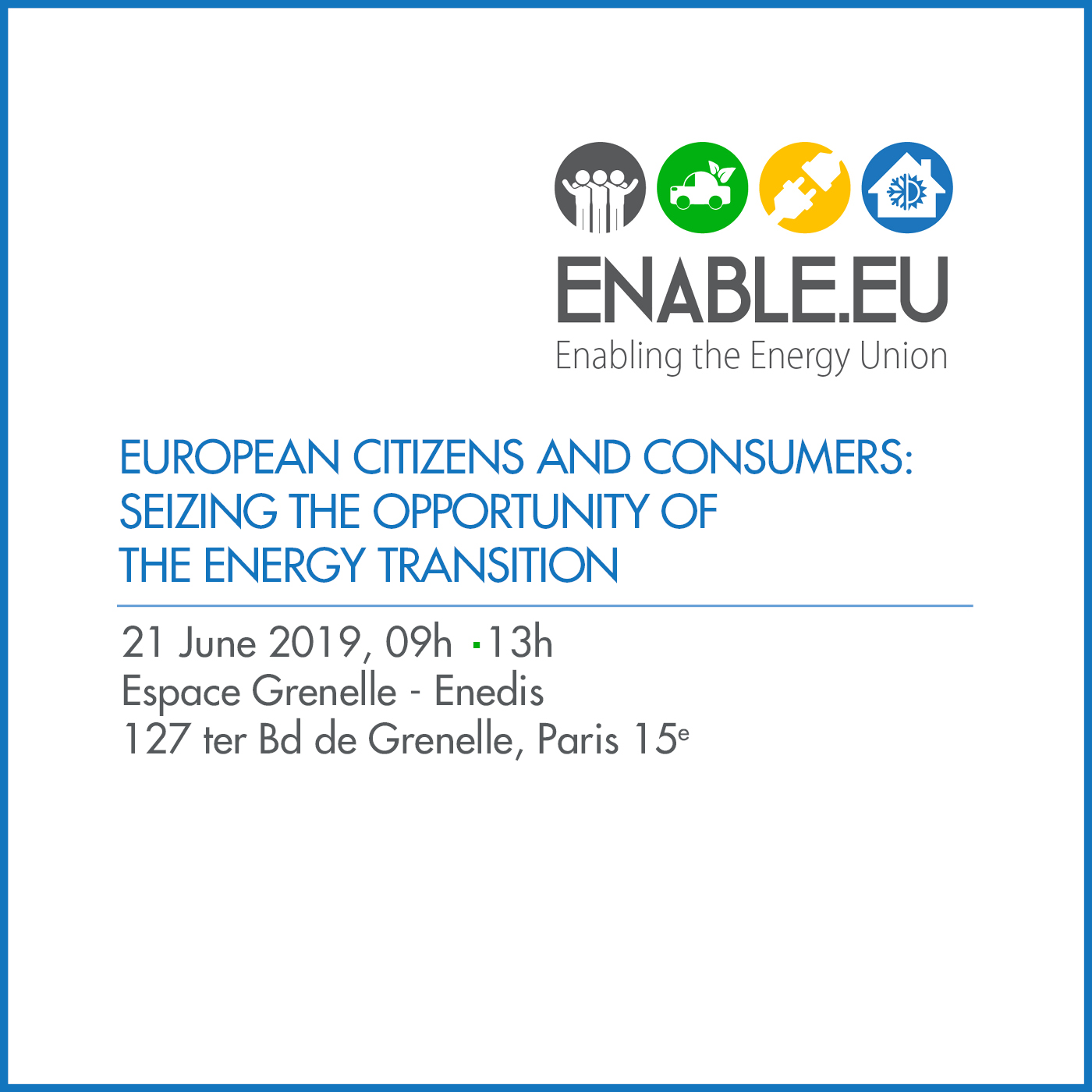 Paris, 21 June 2019 – European Citizens and Consumers: seizing the opportunity of the energy transition
The Jacques Delors Institute together with Enedis organise a workshop to present ENABLE.EU research findings from all around Europe and to discuss the role of smart meters in the energy transition.
Do we use less electricity if we pay it immediately ? Do women hinder the development of solar PVs ? Understanding how citizens make energy-related choices is key to develop efficient policy measures that trigger more sustainable energy practices and thus contribute to the energy transition. Funded by Horizon 2020, the ENABLE.EU project brings research findings to energy stakeholders in order to discuss the best tools and ways forward to improve citizens' involvement in the energy transition.
Conference in French and English with simultaneous interpretation available
Moderated by Hughes Belin, independent journalist
Programme
08:30 – Welcome coffee
09:00 – Welcome speech by Michel Derdevet, Secretary General and Member of the Executive Committee of Enedis
09:15 – Keynote speech
Andris Piebalgs, former European Commissioner for Energy and Professor at the Florence School of Regulation
09:30 – Session 1: What role for citizens in the energy transition?
Research presentation of H2020 project ENABLE.EU by Karina Standal, CICERO, Norway
Eugénie Bardin, Enercoop
David Dornbusch, Vertsun
Kathleen Gaffney, International Energy Agency
Florent Marcellesi, Member of the European Parliament (tbc)
Rémi Mayet, DG ENER, European Commission
11:00 –  Session 2: Smart meters, Smart consumers?
Research presentation from ENABLE.EU by Madeline Werthschulte, University of Münster, Germany
Hervé Champenois, Enedis
Marine Cornelis, NextEnergyConsumer
Julien Gorintin, Wivaldy
Liene Lauceniece-Ivaninoka, Sadales Tikls, Latvia
12:15 – Concluding remarks
Brune Poirson, Secretary of State to the Minister for the Ecological and Inclusive Transition (tbc)
12:30 – Cocktail lunch
Please register here