A Doctor in Political Science and
Sociology, Carmen González-Enríquez is currently a
Professor at the UNED's Department of Political Science and
lectures on immigration in several academic institutions. She has
been visiting scholar at Oxford University's Centre on
Migration Policy and Society and at the Hungarian Institute of
Political Science in Budapest, and has directed a number of research
projects on migration, including "Immigration and
Representation of Workers' Interests", "Immigration
and Political Parties System in Spain. A Comparative Perspective",
"Preventing Ethnic Conflict in Immigrants'
Neighbourhoods" and "The Challenge of Immigration in the
Spain-Morocco Relationship". She has also taken part in various
research projects financed by the European Commission, such as
POLITIS (Active Civic Participation of Third Country Immigrants),
CLANDESTINO (Undocumented Migration: Counting the Uncountable) and
EURONAT (Representation of Europe and the Nation in the Current and
Prospective Member-states).
test89040 - 89040 - 87651 - 89040

Policy Paper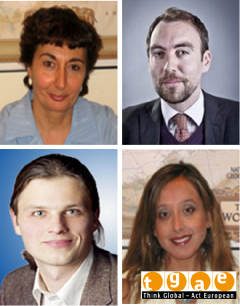 Policy Paper